Morzine is very easy to access by either air, road or rail. The resort is roughly 8 hours from Calais by car or 1hr 15 minutes by air from various airports throughout the UK.
One of the great attractions for visiting Morzine is the short transfer time from the airport. It can be as quick as 1 hour and therefore easy to take a long weekend and avoid the 4 hour transfers a large number of resorts have. The map below is to give you an idea of where Morzine is situated in France - please don't use it as a route planner..!
Below you will find information on how to find the ski resort by air, road or rail.
By Air
At little over an hour's drive, Morzine is one of the closest alpine resorts to Geneva airport. Flight times from the UK are approximately 1 hour 15 minutes and can cost as little as £27.50 each way. The following airlines fly to Geneva:
EasyJet - www.easyjet.com (daily flights from Luton, Gatwick, Liverpool, Newcastle & East Midlands.)
FlyBe - www.flybe.com (daily flights from Southampton)
Bmibaby - www.bmibaby.com (daily flights from East Midlands & weekend flights from Cardiff).
My Travel Lite – www.mytravellite.com (daily flights from Birmingham).
British Airways - www.britishairways.co.uk (daily flights from Heathrow, Gatwick, Manchester and Birmingham).
Swiss Air - www.swiss.com (daily flights from Heathrow & London City).
EU Jet - www.eujet.com (daily flights from Manston Airport - Kent International)
Transfers
Transfers to and from Geneva are not included but can be arranged at £40 (70 euros) pp return, but there may be a supplement for individuals or "anti-social hours". We can arrange transfers directly, but another option is ski-links at : http://www.ski-lifts.com/skiq
If you hire a car from Geneva we will supply you with directions to the chalet. To easily rent a car from Geneva airport visit: www.carrentals.co.uk or go through the Easyjet website
By Road
Morzine is one of the closest and easily reached alpine resorts from the UK. Driving to the resort is very simple. There is the motorway from Calais to within 30km of Morzine. The 535-mile journey can be completed in approximately eight to nine hours. Allow approximately £35/54euros each way for road tolls. Fuel is cheaper than in the UK. The choice for crossing the channel lies between the ferries and Eurotunnel.
The main operators are:
P&O - www.posl.com
Sea France - www.seafrance.co.uk
Eurotunnel - www.eurotunnel.co.uk
Online RoutePlanner
RAC - RoutePlanner http://rp.rac.co.uk/routeplanner
For detailed instructions on how to get to Morzine by car use the link above, and we will supply you with directions to the chalet or apartment.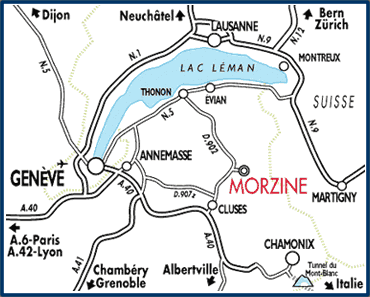 By Rail
You can catch the Eurostar from Waterloo Train Station to Paris where you change for trains to Thonon or Cluses which are nearby.
Eurostar - www.eurostar.com
Whatever method of transport, we can help you and advise on your travel arrangements.